> Church Furniture > Healthcare > Melbourne Armchair

Code:

MEL2

Model:

Melbourne High Back Armchair
All chairs in our Healthcare range feature a high, soft seat for easy ingress/
egress, a high comfortable back and can be stained to meet your
requirements. Available in your choice of fabric.

Matching footrest is also available with this product.
Delivery time

4 - 5 weeks

Product Detail
Fabric -
COC
0.0 mtr
Frame finish - Light Oak on Beech Wood
See Alternatives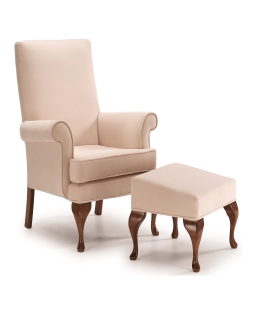 | | | | | | |
| --- | --- | --- | --- | --- | --- |
| Price Guide | 1 | - | 4 | £ | 240.00 |
| | 5 | - | 9 | £ | 238.00 |
| | 10 | - | 19 | £ | 236.00 |
| | 20 | - | 49 | £ | 234.00 |
| | 50 | + | | £ | 232.00 |